Oh, man.
That gold medal match between the Philippines and China might just be the worst game in the history of modern Asian basketball.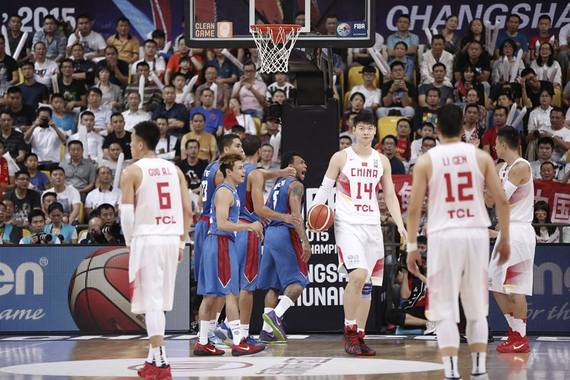 Photo from FIBA
No, I'm not being a sore loser.
(Okay, maybe a little.)
But as
the best basketball fans in the world
who are also technically knowledgeable about the sport, we, Filipinos, know when something's not right. Our passion for the sport is so palpable that even
basketball experts from other countries have been writing books about it
.
And even though sports like football and volleyball have started to get a taste of the limelight, basketball remains the most widely followed sport in the Philippines. This is in spite of our lack of height which has not deterred Filipinos to master the sport and be competitive with it.
So you could just imagine the devastation it wreaked upon the entire nation when the Philippine men's basketball team, fondly referred locally as Gilas Pilipinas, lost the finals match of the Chinese-hosted 2015 FIBA Asia Championship to
--surprise--
China on Saturday, October 3 at the Changsha Social Work College's gymnasium.
And while its unblemished record and the result of the finals may suggest China as the runaway winner of the competition, it didn't end without controversies.
The stakes are high
It is the EuroBasket of Asia. It is no question that the participants of the 2015 FIBA Asia Championship have a lot to gain or lose.
The winner automatically qualifies for the basketball tournament on the 2016 Rio Summer Olympics, while the next top three teams will have to slug it out with other powerhouse teams of the world like France, Serbia and Greece at the 2016 FIBA World Olympic Qualifying Tournament just to secure the other Olympic berth.
The tournament is also another shot for the Philippines to regain Asian basketball supremacy, which we have not won since 1985.
The Filipinos' trip to the Finals wasn't exactly a cakewalk. When the
Gilas Pilipinas lost their opening game with a shocking upset by first timer Palestine
, many began to doubt the Filipinos' ability to contend for the gold medal. But the loss seems to have only added to their motivation to continue their fairytale run as they won in close action all of their succeeding games en route to the Finals. They even beat perennial contenders and defending champions Iran in a tightly contested match.
This is in stark contrast with the stretch of the other finalist, China, whose winning slate went unscathed on their way to the Finals,
swaggering about a 23-point margin of victory a game
.
However, China's wins didn't unfold without controversies. In an interview,
Gilas coach Tab Baldwin noticed
that China has been getting favorable calls from the referees particularly during their matches with Jordan, South Korea and Iran. He said:
I know that there's no such thing as a level playing field in China. So we have to beat not just the Chinese basketball team, we have to beat all the external factors that come into play when you play in China.
Even Iranian player Samad Nikkhah Bahrami
mentioned in an interview
that officiating will surely be on China's side just like what happened to them during their semi-finals match, before wishing the Gilas Pilipinas team good luck.
The ugliest game in history
The Finals match had been marred by controversy even before it started. President of Samahang Basketbol ng Pilipinas Manny Pangilinan criticized the organizers of the event for the problems the Gilas Pilipinas team has experienced ahead the gold medal match. In a series of tweets, Pangilinan expressed his dismay:
Now it has begun. Our Gilas electric bus delayed. Failed to charge daw. Gilas arrival at stadium delayed. Less time for warm up.

— Manny V. Pangilinan (@iamMVP) October 3, 2015
And some of our coaches no tickets!!!!! Wow.

— Manny V. Pangilinan (@iamMVP) October 3, 2015
Plus no tickets for some of our assistant coaches. Gggrrrr. And for us hard to get tix!!! Ggggrrrr.

— Manny V. Pangilinan (@iamMVP) October 3, 2015
Mapapaaway kami dito. Sh*t.

— Manny V. Pangilinan (@iamMVP) October 3, 2015
Coach Tab warned us about these cheap tactics last night after the game vs Japan.

— Manny V. Pangilinan (@iamMVP) October 3, 2015
Chinese team staying w/ us at Kempinski Hotel. All other teams inc. Gilas in another, official hotel. That's not following the Fiba rules.

— Manny V. Pangilinan (@iamMVP) October 3, 2015
Upon Gilas' arrival at the match venue, Chinese utility men were spotted fixing Gilas' ring while the Chinese team was already doing their practice shots at the other end. This situation significantly trimmed Gilas' time to warm up and do practice shots.
Before these "unfortunate" events, many people were also suspicious and outraged when the organizers decided to move the Gilas Pilipinas' semifinal game against Japan last Friday from 9:30 p.m. to 10 p.m. Many fans believe that this move was a way for the Chinese to procure undue advantage come the gold medal match.
The gold medal match took place Saturday, 8:30 p.m. at Changsha, China. As expected, the entire venue was packed with boisterous Chinese supporters. But the Filipino players were unfazed by the loud crowd as they took a five-point lead against the Chinese at the early goings of the ball game.
However, their lead began to dwindle and were eventually overtaken as the Gilas team lost concentration due to the innumerable miscalls and non-calls by the referees from start to finish. The game was officiated by Marwan Egho from Lebanon, Arsen Andryushkin from Kazakhstan, and Toru Katayose from Japan.
One of the messed up miscalls was when Gilas player Gabe Norwood was poked in the eye by one of the Chinese players right in front of one of the referees and yet called it a turnover.
Alin ang favorite no-call moment nyo?? Mine would be the Norwood poke in the eye after the steal! Ikaw naman! #DiMakaMoveOn

— mikey rosales (@BoyBangus) October 3, 2015
@FIBA petty calls & some that aren't supposed to be called! Norwood was poked in the eye in front of a ref! FIBA WHAT'S GOOD

— Ciar Latoza (@royalarse) October 3, 2015
Yi just got bumped foul called. Norwood getting a poke in the eye. No foul #FibaAsiaChampionship2015 #CHNvsPhi

— Josh Lazaro (@ayojoshlazaro) October 3, 2015
Another questionable call was when Asia's best point guard Jayson Castro was whistled for a traveling infraction while dribbling the ball.
Even NBA superstar Kobe Bryant thought there's something wrong about the call and was
reportedly disappointed
with the lack of professionalism displayed by the FIBA officials during the game.
Online spectators also noted that no replays were shown for plays that are in favor of the Gilas Pilipinas.
OBSERVE: No replays for plays in favor of GILAS. SMH.

— Marco Lorenzo Ferrer (@marcoferrer9) October 3, 2015
"@marcoferrer9: OBSERVE: No replays for plays in favor of GILAS. SMH." @FIBA should watch this game. This is what they will do in 2019.

— Connie Reyes (@ConnieGReyes) October 3, 2015
Gilas Players are getting pissed off with the call. We as well!!!! #LabanPilipinas #GilasTamangPanahon #FIBAAsia2015 no replays!!!!!!!!

— Kathleen Calimon (@khayecalimon) October 3, 2015
No replays for the Gilas pero china meron?? For real?? For real?? For real?? #GilasTamangPanahon #FibaAsiaChampionship2015 #MasterchefFIBA

— Aya Regilme (@ayaregilme) October 3, 2015
Sports commentators particularly from TV5 also noted several instances where Chinese audience allegedly threw objects at Filipino assistant coach Norman Black and at Filipino fans in the arena.
In one of the moments caught on camera, you can see an entire row of people seated behind the Philippine bench calling out Filipino player Calvin Abueva, verbally abusing him and flipping him the finger after the Gilas rookie fouled out with over four minutes remaining.
@FIBA what can you say about this Chinese who raised his dirty fingers to Calvin Abueva? #DisrespectfulChinese pic.twitter.com/UkhvjBJrVn

— Frenz Ramos (@FrenzRamos) October 3, 2015
And for the first time in the entire tournament, coach of Gilas Tab Baldwin, who must be frustrated like the rest of the team,
declined to be interviewed immediately after the game
.
Stop demeaning the beautiful sport
It is not the first the Philippines lost a basketball match. Truth is, we're already immune to
basketball heartbreaks
.
This is also not the first time that we accused the other team of cheating. However, this time, I think our accusation is grounded and reasonable. And that's coming from me, someone who usually hate it when people keep whining about the referees. But I have to say that this was the
worst
officiated international basketball game that I've watched.
I have tried to review the game objectively and it is just impossible not to notice the bias of the referees. This scene is heart-breaking not only for me but for the Philippines, an impassioned basketball nation raring to make it again to the Olympics after more than four decades of drought.
I also feel for our Gilas players. For these guys, basketball is their life and the Olympics is their ultimate dream; a dream for which they are willing to put everything aside, even their own families. And to simply dash that dream away without giving them a just and an equal chance to prove themselves, that's just rotten.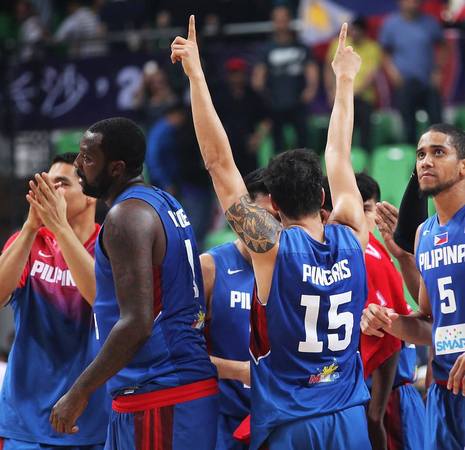 Photo from FIBA
Some people would say Gilas chose to play their worst game in the tournament in an inopportune time. Probably. But all those countless questionable calls may have had a negative impact on the team. They could have made them lose their rhythm and focus, kept them from gaining any momentum and downed their morale.
This is not to make an excuse for the players. I know psychological preparation is critical for athletic success. I am also not saying we should have won the game.
But for sure with each and every gold medal match, everyone expects an honest and fair system. Everyone deserves a level playing field to compete on. And what I just witnessed is simply a downright dearth of professionalism on the part of the game officials.
Where there's smoke, there's fire
FIBA referees have been known for making bad calls. In fact, people are still talking about that
blown call during the 1972 Olympics basketball gold medal match
when the United States lost to the Soviet Union. The United States team convincingly won all their eight elimination matches before losing in the finals against the Soviet Union who won the game by a single point.
FIBA Asia referees are no better.
Right now, I believe the Philippines should file a protest to FIBA to avoid this kind of incident from happening again. And as the international governing body who aims to maintain the integrity of the sport, FIBA owes it to all the basketball fans in the world to, at least, review the entire Finals match and give their own impartial verdict.
It is not about being a sore loser. It is about fairness and the outcome of the game is just not fair.
It is about speaking against what is an apparent and blatant insult to the intellect of the viewing public and the international basketball community.
It is about saving the dignity of this sport that billions of people in the world love so much.
And with China hosting the FIBA World Cup in 2019, issues and concerns about the officiating and corruption are surely going to come to a boil.
FIBA Asia reforms needed
Basketball is one of the most physical contact sports where close games are spoiled by bad officiating. A forumer from Interbasket.net,
drhouse
,
suggests the following FIBA Asia reforms
to improve its integrity and curtail corruption:
1. No FIBA Asia rules can be changed and applied two years before a tournament, to prevent a sponsoring nation from corrupting the rules.

2. No FIBA tournament of the same type should ever be allowed to be hosted consecutively by the same nation, to prevent China or some other nations from unfairly capturing Olympic qualification and other FIBA-rated tournaments.

3. Allowing all competing nations to challenge up to four calls per quarter, and all calls in the last two minutes, of referees using at least three on-court slomo cameras to minimize the effects of incompetent and cheating referees.

4. Have a referee permanently banned from all FIBA rated tournaments once any nation has shown that game cameras have evidence that four or more glaring miscalls, noncalls or successful flopping in a quarter occurred in a FIBA game.
Indeed, FIBA should try to get the lame "flopping", acting or simulation the shit out of basketball. It is obviously cheating because these acts can fool the referees. Players who do this won't win any retrospective praises from anyone, just hate tweets and potential memes.
Finally, FIFA was recently involved in a corruption scandal, while similar cases against FIBA are almost non-existent. But as FIBA gains relevance, it is not impossible that it will attract greedy and exploitative individuals and entities. FIBA should be more proactive in keeping this from happening.
Corruption, whatever sport it plays or political color it wears, is a disease we must stave off.
-- This feed and its contents are the property of The Huffington Post, and use is subject to our terms. It may be used for personal consumption, but may not be distributed on a website.