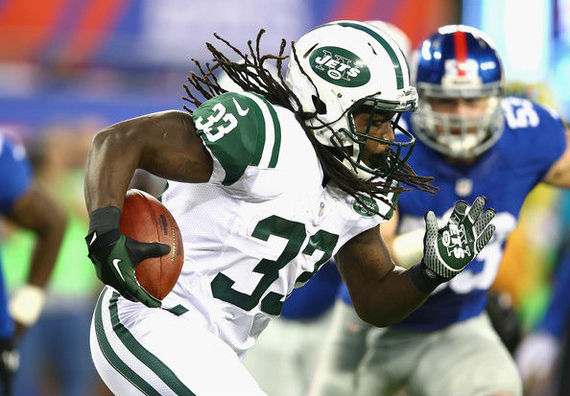 Photo Credit: (Aug. 23, 2013 - Source: Al Bello/Getty Images North America) via Zimbio.com
It is bye week for the New York Jets, and they are here with a 3-1 record. They have boasted an opportunistic defense and an offense that gets the job done when it has to. Led by a bruising running back and veteran wide receiver, the Jets are seeing success they haven't seen in years. Here are some of the Jets heroes from the first quarter of the season:
Chris Ivory:
Chris Ivory runs like he is mad at the grass, and never more than in 2015. Taking part in three out of the Jets' four games to date, Ivory's influence has been never greater, averaging over 100 rushing yards per contest. Last week against the Dolphins, Ivory posted a career high 166 yards on 29 carries. He is on a pace for over 1,500 yards and 15 touchdowns.
The Jets learned even more about Ivory's importance when he didn't play. In Week three against the Philadelphia Eagles, the Jets could get nothing going on the ground, averaging less than three yards per carry, and suffering their only loss in 2015 to date.
The Jets will live and die with Chris Ivory running the rock.
Eric Decker:
Why Eric Decker? Many of you probably believe that Brandon Marshall should be in this spot. After all, Brandon Marshall is averaging 100 yards per game, and on a pace for 15 touchdowns of his own. He has put in the best run of games for the New York Jets by a wide receiver in nearly 30 years. Why is Eric Decker in this post?
Because Eric Decker's performance in the slot has helped allow Brandon Marshall to face one-on-one coverage. Decker has posted three touchdowns of his one, almost exclusively from the slot, allowing Marshall to do his work on the outside. Without him, in week three, Ryan Fitzpatrick was forcing the ball to Marshall, and again, the Jets lost their only game to date.
Darrelle Revis:
Finally we have the return of Jets' fans prodigal son, Darrelle Revis. When he was resigned in the off-season, he was welcomed back with open arms, and with good reason. Revis may have lost a step or two at his older age, but he can still cover as good as anyone in the NFL. He has recorded two interceptions already, reminding Jets' fans of days gone by.
Not only does he improve the Jets on the field, but his influence has helped other Jets' cornerbacks. Marcus Williams, for example, has been able to play in a backup role, and he has shined, posted two interceptions of his own. Darrelle Revis makes everybody on the team better.
Who are some of your Jets' heroes of the first quarter?
-- This feed and its contents are the property of The Huffington Post, and use is subject to our terms. It may be used for personal consumption, but may not be distributed on a website.