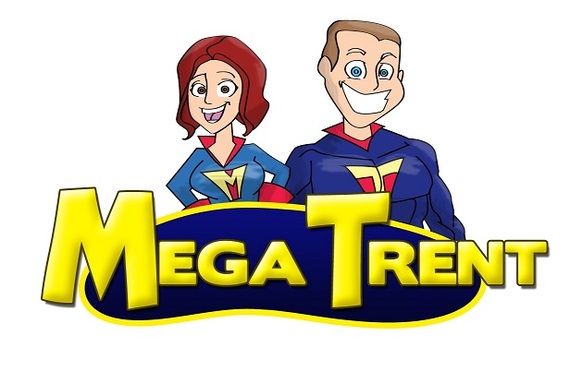 I'm telling you to visit the MegaTrent Website
When Mike the publicist sent me a message titled "Clam Bake Weenie Roast", I almost hit the delete key, because, loyal readers, you all know I don't eat seafood. Then I looked at Megan Hayes' and Trent Ward's goofy-ass pictures and I just had to do the interview.
After interviewing Megan and Trent, I say go see this comedy show at the Working Stage Theatre in Los Angeles!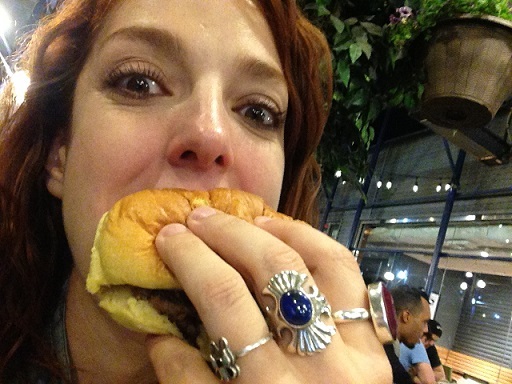 MEGAN HAYES
What possessed you to put on a live sketch comedy show instead of taking on another television role and making more money?
The devil. Actually I love mixing things up, and sketch comedy is one of my favorite things to do. It gives me the chance to write and play a bunch of different characters lightning fast.

You and Trent are so cute as superheroes. What's the story behind that?
Thank you! Well, I've wanted to be Wonder Woman as long as I can remember. Plus, Trent and I both love Superheroes! Don't we look hot as Mega and Trent?? We met through a mutual friend and hit it off right away. Trent used to do live sketch shows, so I said COME ON LET'S DO IT!!!! And MegaTrent was born.
Why do you think the line "Ladies first" was invented?
Ok, as much as I'd like to think that this came about out of chivalry...I bet it was invented by some dude who made his lady go first because he feared there was a monster or murderer up ahead. So, he made his lady go first to save his ass just in case. Sort of a, "asps, very dangerous. You go first..." situation.
Do you honestly think you're funny?
I really think I'm more about telling the truth and playing the truth in the given circumstances. Whenever I "try" to be funny...it usually ends in disaster! But when I tell the truth and play things honestly...if you find that hilarious....great!
Star Wars or Battlestar Galactica? New or old?
Ilana, Ilana, Ilana... The mere fact that you're asking me this question now makes me question your credentials...and very existence. There's no question. Star Wars. Old. DO OR DO NOT. THERE IS NO TRY! Duh....
You like to really push the envelope, don't you? Would you be boring otherwise?
I certainly do! I don't think I could be boring if I tried.
And believe me I try
. Staying home with takeout sushi and watching Star Trek or Orange is the New Black is my kind of fun. But I'm Southern. A preacher's kid. I have so many crazy stories and experiences I've been through that I forget they're interesting until I tell someone like it's a normal occurrence and they stop me and say...."WTF??"
[AUTHOR'S NOTE: Megan, I thought you said in the above Star Wars answer 'THERE IS NO TRY'... hahah! Now who's the loser?]
Where does "Megan and Trent" fall within the following choices: Carol Burnett, Three's Company, Married w Children, The X-Files, The Muppets, Benny Hill. Pretend this is a Mensa question.
MENSA???? Who's got time to be that smart???? I feel like we are two parts Carol Burnett. One part Benny Hill. And a dollop of The Muppets. "It's time to play the music. It's time to light the lights..."
I can't believe you're actually answering all of these questions. Respond.
Are you kidding me!?!? This is like the best interview ever. I'm having a blast. What does that say about me??? Respond.
[AUTHOR'S NOTE: Stop talking to me, freak!]

Anything else you'd like to say?
Please check us out on all the social media channels @megatrentcomedy and at
www.megatrent.com
!! You can find out more about me at
www.meganhayes.net
where you'll read about all the causes I support and learn that I make a mean pecan pie....Ilana, do you like pecan pie?
[AUTHOR'S NOTE: I LOVE pecan pie! Especially with ice cream. Please drone some over!]
Megan's Stuff
: https://twitter.com/megan_hayes , https://instagram.com/meganhayesactor/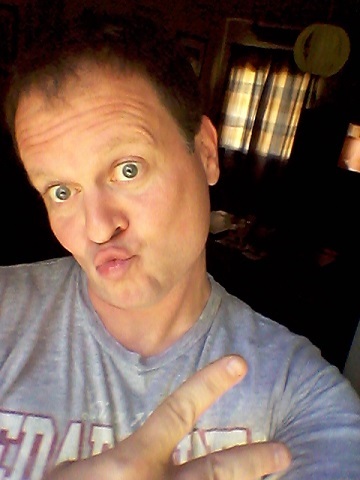 TRENT WARD
Trent, what the hell is wrong with you?
That's what my kindergarten teacher used to say. And my 4th grade teacher...and my Sunday school teacher...my pee wee baseball coach...my guidance counselor...my prom date...my old man...well, you get the idea. I don't have room here to list everybody who thought I was a problem over the years. But most of those folks are dead now...and they'll never find the bodies...
What type of things need to be ironed out with the venue, in this case Working Stage Theatre, in order to put your show on?
I have put up shows at Working Stage Theatre in the past, so I knew the venue would work for the show I envisioned and that they were very accommodating owners. I've done tech work for years, so I can make just about any space fit my needs with a little elbow grease. We rent the space for a four-week run and cross our fingers that we don't lose our asses at the box office, but that's what generally (always) happens. If you want to get paid, I suggest another line of work. Perhaps a career in dentistry.
What's the difference between a performer and an actor?
Actors tend to make better waiters. Performers juggle the bread sticks too much. I hate that.
Seriously, Trent, how do you earn a living?
I have worked in corporate video production for many years, where they actually pay you on time for a job well done. Unlike Hollywood, where you have to show up at the producer's house with a baseball bat months after the job was completed to get the pittance you were promised. Last year, my comedy album "Call Me Scuzz" hit #3 on the Billboard comedy charts, so I am following that up with another album this year. I also have a rapidly growing YouTube Channel ("Trent Ward"--- easy to remember) featuring comedy shorts and music videos that has begun bringing home the bacon.
If you could be a flea in any celebrity's hair, which celeb would you choose and why?
If I could be a flea in any celebrity's hair, it would be Scarlett Johansson's. She probably does a Brazilian wax down there though, so I would have a tough time holding on, but oh what a ride!
You do know that clams and weenies do not go well together, right?
Clams and weenies go great together...at first. But eventually, the aging weenie has a mid-bun crisis and thinks he can be a real hot dog again by finding a bivalve half his age with a shell enlargement. The old mollusk catches him with his pork in another chowder and takes every condiment he has. It's a sad, but oh too familiar story in this town.
What's so special about your show that would make me want to go?
It's funny! It's fast-paced, dirty and irreverent and there's lots of satire, which is a vanishing art these days (damn you, Stephen Colbert!). We take shots at some "untouchable" subjects and go over the line, but with purpose.
Since you're a superhero, are you related to actor Burt Ward?
As far as I know, I'm no relation to Burt Ward. But I have read excerpts from his autobiography, and we do share a similar interest in bearded clams.
Anything else you'd like to say?
You can get tickets at www.MegaTrent.com. Profits from the show go to fund "The Scuzz Twittly Home for Runaway Teenage Nymphomaniacs," They do outstanding work. I volunteer there quite often. Check out Scuzz at
www.ScuzzTwittly.com
.
Trent's stuff
: www.Facebook/ScuzzTwittly , https://www.youtube.com/user/orangeflash , http://www.megatrent.com/ ,
www.ScuzzTwittly.com
-- This feed and its contents are the property of The Huffington Post, and use is subject to our terms. It may be used for personal consumption, but may not be distributed on a website.