I left my stretched-out, suburban hometown after college. I wanted more. There was a yearning for art, theatre, big museums, foodie-style restaurants and to live where people could walk or take public transportation. I was drawn to San Francisco, New York and Los Angeles, all for different reasons. My parents still live in the same house, and I return "home" often. On a recent trip home, I realized something amazing. Some of those things I left for were now right here in the old hood.
We left the kids with my parents to have a date night. I wasn't sure what we would be able to find. In days gone by, the Cheesecake Factory might have been the fanciest place in town. More often, we all met at a fast-food place called Naugles to find out where the party was, and as we got a little older, maybe Taco Tuesday at Tortilla Flats.
My husband whipped out his phone to find "restaurants" in the vicinity, and "Pub 32" popped up. We love Irish pubs; after all, we met in one. We threw caution to the wind and headed over. We weren't expecting much...maybe some fish and chips, shamrocks and Guinness on draft. Boy, were we in for a pleasant surprise.
It didn't take long to realize we were walking up to what could be a real diamond in the rough. As we opened a giant wood double door we felt like we were leaving the suburbs and entering a quaint spot in Napa. A friendly server from across the bar came over and seated us. No fuss, no pretentious stuff...just a friendly "hi" and asked if we'd like to dine, sit at the bar or sit in the lounge. (All were equally inviting. We chose the dining room.) It was classy meets rustic but you still felt like you could wear jeans. Clearly, all walks of life are welcome here. This was a perfect match for my mid-western husband and his city-loving wife.
The menu was exciting. We were expecting typical Shepherd's pie and greasy fish and chips. Instead, we learn we will be eating all locally sourced ingredients in a farm-to-fork restaurant! We were met with choices that felt like we were just immersed in the fine dining world, while keeping it real. I have Celiac disease so I'm severely allergic to gluten. The server welcomed that discussion rather than being frustrated by it which gave me confidence this was going to be a special night.
We start with one of my all-time favorite starters, a tomato salad. Temecula farmed heirloom tomatoes, goat feta cheese and petit arugula is delivered by the chef himself. I see a familiar smile and twinkly eyes that I know. We went to high school together, and I nearly fell off my chair. Chef Glen Tinsley came to our table concerned about my food allergy and instead received hugs and excitement over not only our chance meeting, but this dish.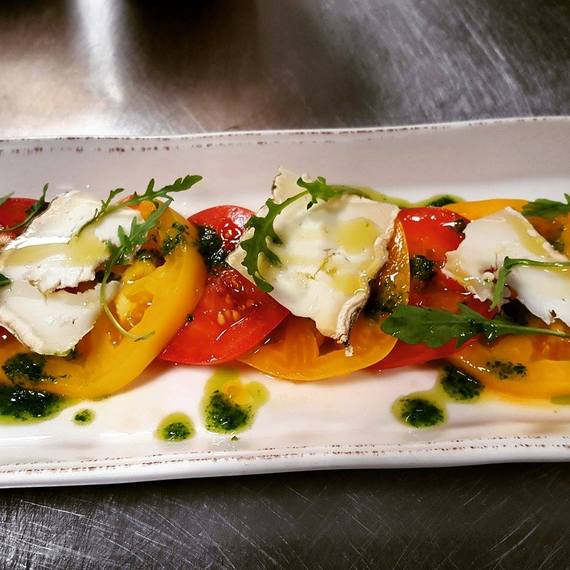 Next we dove into Wild Elk Tartare mixed with house pickles, capers, Dijon mustard, house-made ketchup and topped with a duck egg yolk and fermented radish and pickle. THIS is the kind of food I left home for, and yet here it was.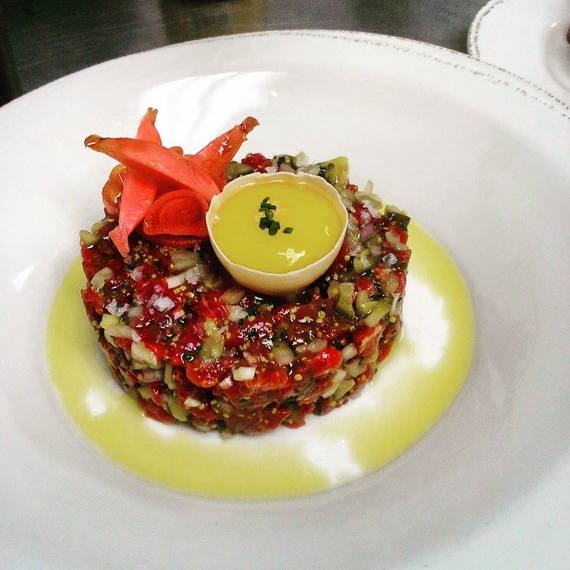 Our entrées were just as exciting as our starters. My husband is a meat and potatoes kind of guy, and devoured the prime Angus with crushed potatoes, asparagus, Cipollini onions, horseradish crema and a red wine sauce. I honestly thought he might lick the plate.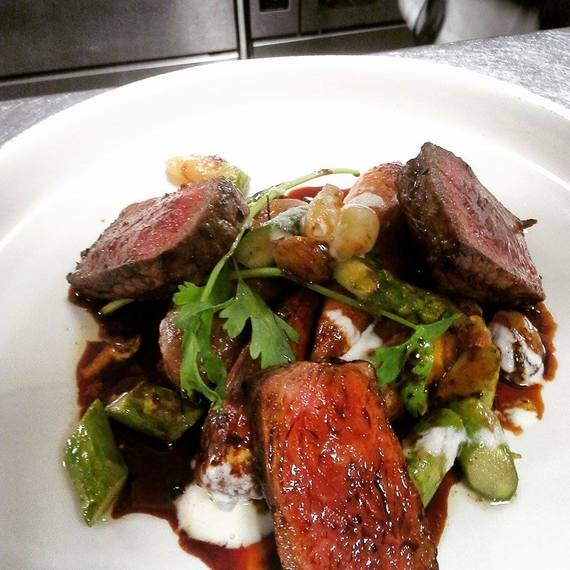 I don't usually eat salmon, but the waiter described it as the special in a way that said "you are so smart if you eat this" so I did. It was a pan-seared wild King Salmon with chickpea puree, carrot and fennel salad and saffron vinaigrette. I kept imagining myself in Europe, not Mission Viejo, with every bite.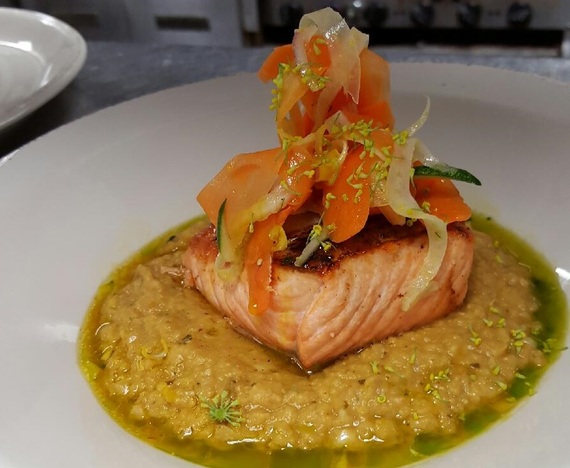 Dessert is something a gluten-free diner usually has to skip. Not here at Pub 32! As a gift from the chef, next we were brought the most refreshing and beautiful white chocolate cheesecake with Meyer lemon curd, an almond crust and vanilla lemon syrup. Cue hallelujah chorus.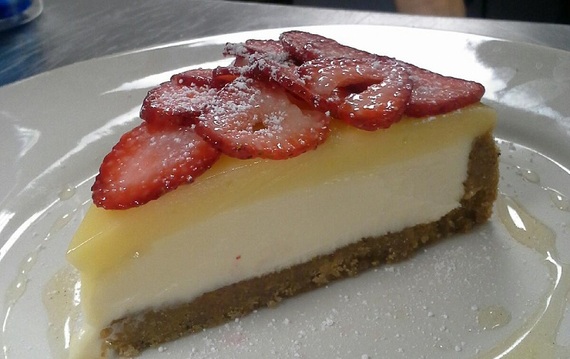 Even the coffee at the end of our meal was delicious. There was so much care in the food and beverage that was being served. Everything was local, fresh, homemade, and honest. No foams, no funky things to eat off...it was beautiful food made with love and organic, local ingredients that made you feel like the owners truly cared what you are eating. We stayed as long as we could, and Chef Glen and I shared stories of travels, food, restaurants and our dreams. It was a most spectacular moment when we both realized, you can bring it ALL home.
All photos shared with permission and courtesy of Glen Tinsley, Pub 32
-- This feed and its contents are the property of The Huffington Post, and use is subject to our terms. It may be used for personal consumption, but may not be distributed on a website.