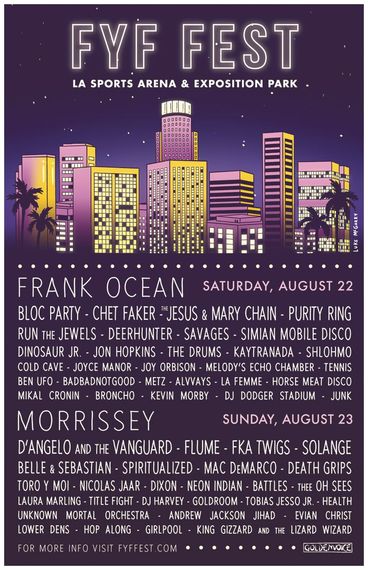 Over the years, live music has evolved from concerts to music festivals. Coming in many forms and styles, some festivals are weekend-long camp-outs while others only last one day. Transformational festivals offer an array of self-improvement workshops, yoga, healthy food and a culture that spills into the world outside of the event. There are various small gatherings, collectives, and parties that all encompass this community differently. Then there are those special events that lie somewhere in between a concert and a music festival. Fuck Yeah Fest is a two-day festival that does not offer camping or extracurricular activities, but does have a lineup that is so diverse and impressive that the entire focus is on the music.
At the impressionable age of 18, a young Sean Carlson started FYF with a passion for music, art, comedy, and friends. Twelve years later, what started as a fun project grew into one of the most popular and highly-anticipated musical events in Los Angeles. Seeing artists such as Morrissey, Frank Ocean, Flume, and Nicholas Jaar decorate FYF's unique lineup is a testament to how far Carlson's team has come. I sat down at Griffith Park with the good-vibe-ambassador, Sean Carlson, and we discussed music, the evolution of FYF, goals and his favorite color.
Morena: So is FYF a company or just a one time event? You mentioned that you did an event last night.
Sean:
Well we do shows throughout the year and that's under the umbrella of FYF presents and they're all over LA and in the desert at Pappy and Harriet's, and a few other locations. The festival is obviously the festival. We do other stuff, like we're doing an adoption drive on Sunday [08/02/2015] and we do different one-off events but the company is, for the most part, a couple friends hanging out every day and doing what inspires us. Whether it's a show, adoption drive, cooking, something, drinking coffee, I don't think we've ever really thought about what the company is. We still don't have a logo, [but] we're getting there. We're going on 12 years now and we're still taking baby steps but we've just been friends for a very long time.
Morena: Awesome. That's how so many of these companies and festivals and events start.
Sean:
Sometimes, or sometimes it's like, 'I have this idea that's gonna make a lot of money, we gotta get A and B and add C to this,' and it's like ehhh...
Morena: True. I work with a lot of smaller festivals or 'transformational festivals' and gatherings that usually all start with a group of friends who just hang out and wanna create something awesome.
Sean:
Oh yeah, it's a labor of love and if it turns into something, great, and if doesn't, keep trying.
Morena: When you say that you're getting there with logo design and branding and all that, do you wanna get there? Or do you like keeping it the way it is?
Sean:
Well whatever happens happens and it's doing very well. When people ask, 'what's your business plan,' it's always to keep doin' what we're doin' and to do a better job every year. The focus is the festival. Obviously there's branding and all that and that is important for a company, but that isn't our focus. Our focus is the festival, the experience, the talent, the vibe, to make it the best thing possible for the people going. And, I mean, it'd be great to have a fancy logo, but not really thinking about it. Now it's just this ongoing joke where it's like, 'well, we don't have a logo. Oh well.'
Morena: The lineups are just so amazing and eclectic. Instead of focusing on just indie bands or just electronic music, it's a compilation of everything.
Sean:
Well it's a mix-tape. You wanna listen to Frank Ocean, you wanna listen to Flume, you wanna listen to, I dunno, Jesus and Mary Chain. It's boring to have everything sound the same. If everything was just electronic music or everything was just indie rock, everything's gonna sound the same after awhile. You want it to be different.
Morena: What is your favorite color?
Sean:
I dunno, somebody asked me that when I was six, and, blue?
Morena: So who's the core crew?
Sean:
My close friend Dave and Dave helps me with all operations, he's the festival manager, and then there's the team from Goldenvoice, there's incredible people over there that we work with. There's five people on our side, then there's the Goldenvoice side, and then there's a bunch of independent contractors. There's a lot of people, there's probably about 20 people.
Morena: I've never been to FYF so this is going to be a new experience for me. Is there anything other than music that's offered?
Sean:
You know, we did comedy for a number of years and it worked at the old location, it didn't work at the new location, we just didn't find a place where this would translate and make sense so we axed comedy. There's stuff to do but really, when you go to a festival, you wanna see music. Have the stage be good, have the sound be good, have the vibe be good, and if you can accomplish that then you can add other stuff. It's about experience and setting, so no, there's not other stuff, but yes, there is. There's fantastic food, there's great vibes, there's some interactive stuff with fans, but there's not like a huge Burning Man art project where a giant butterfly is shooting flames into the crowd. As much as I wish we did, we didn't get the budget this year for the giant butterfly so that's off the table.
Morena: What kind of speakers do you guys use? Who does sound?
Sean:
Rat Audio. They're good, they do all the sound for Coachella and they do the sound for most of the major festivals.
Morena: So when you started this thing, was it originally a passion project that just grew? Was it something you had been thinking about for a long time or did it just present itself?
Sean:
It just kinda happened, there wasn't an idea to do the festival and it was very small the first year. I have friends that played in bands, I have friends that were artists, I have friends that were comedians, and then we combined all three of them and the first few years were very focused on art, comedy, music and it was replicated off an art crawl and it was free. So people were able to go into all these different venues and all these different places and see what was going on. Now it's obviously changed, it's a bigger festival but there was no intention to do a festival. It was just, this is what we're doing in the moment, right now and then how do we organize this and get it to be better.
Fuck Yeah Fest will be taking place on August 22nd and 23rd, 2015 at the L.A. Memorial Sports Arena and Exposition Park. Sean Carlson's humble beginnings have not changed his outlook on FYF. He has no expectations and therefore no disappointments. While it can often be stressful organizing an event of this magnitude, Sean was calm and happy, two demeanors that are not often paired in Los Angeles. Though proud of how his creation has grown, he still, and always will, view Fuck Yeah Fest as a fun party put on by a group of life-long friends.
Website:
www.fyffest.com
Facebook:
www.facebook.com/FYFFest
-- This feed and its contents are the property of The Huffington Post, and use is subject to our terms. It may be used for personal consumption, but may not be distributed on a website.